Susan Lapworth, Chief Executive of the Office for Students (OfS), reflects on her contribution to the recent discussion on freedom of speech in higher education.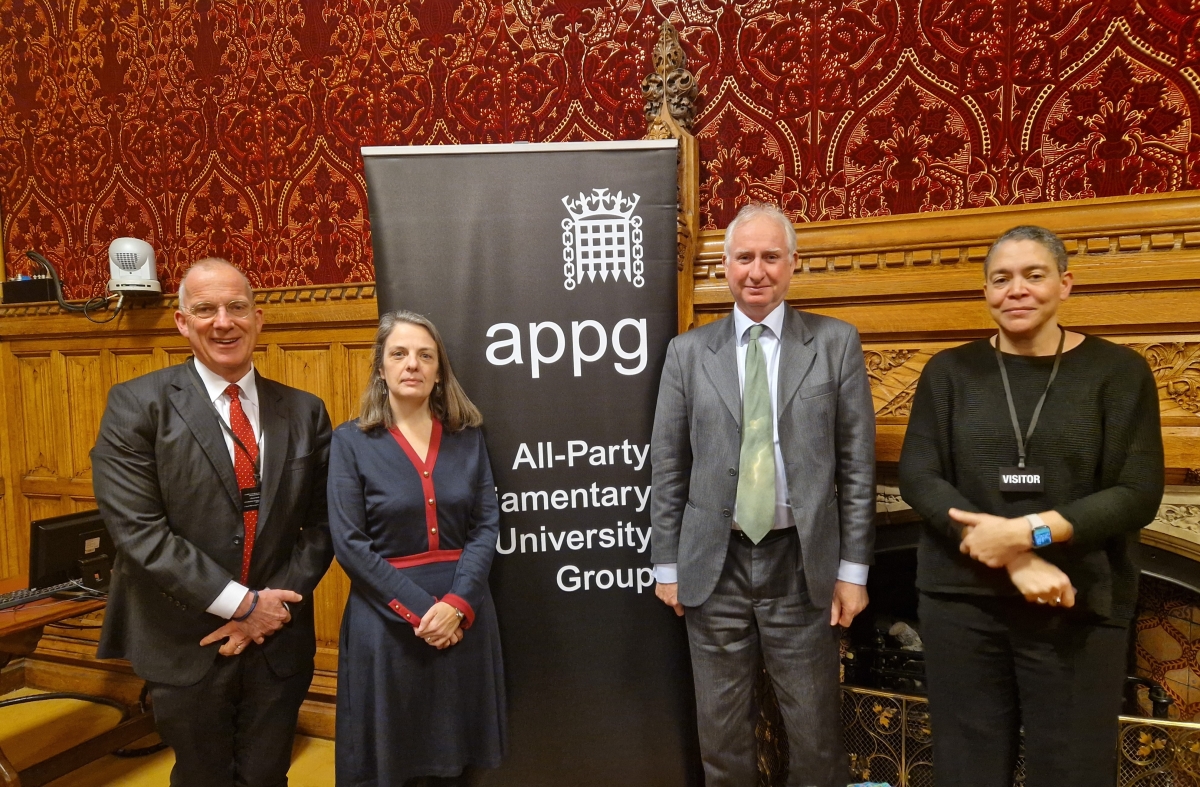 I recently spent an enjoyable evening with the APPUG in Westminster, discussing freedom of speech in higher education.
Conversations on this topic can be politically fraught. It was refreshing to take part in a clear-eyed discussion of the issues at play, focused on understanding the legal realities and the steps that universities need to take to meet their obligations.
I spoke about the three principles that underpin the OfS's work in this area:
Freedom of expression is an essential part of a high quality education for students.All staff and students are entitled to teach, learn and research in a culture that values vigorous debate. This includes in relation to difficult or contentious or discomforting topics. That's the point of a university.
The OfS is not interested in fighting culture wars or taking sides in contentious debates. We are an independent statutory regulator. Our job is to ensure that lawful speech is protected and that academics are free to teach and research with confidence. That has to be the case regardless of the politics or position of any individual.
There is a genuine issue about freedom of speech in higher education that we hear about in the concerns staff and students bring to us. We know that not everybody agrees, and we think the issues go beyond a small number of events that don't go ahead or speakers who are publicly no platformed. We're concerned that attitudes and cultural assumptions in the academic environment mean that some topics are implicitly seen as off-limits, some books never get onto reading lists, and people who reasonably disagree on some issues may feel silenced.
Universities need an accurate and comprehensive understanding of their various statutory obligations when they develop their approach to freedom of speech and academic freedom. The discussion explored some of the complexities flowing from the intersecting legal duties, and I highlighted some of things we see the sector sometimes getting wrong.
I won't describe those complexities in detail here. The OfS recently published an insight brief setting out our view of the legal framework and explain why understanding the detail really matters here. It's freedom of speech and academic freedom 'within the law' that have protection – and so being clear about what the law actually says is essential.
We're expecting the Higher Education (Freedom of Speech) Bill to complete its progression through parliament very soon. As currently drafted, it would change the requirements placed on institutions. It includes:
A strengthened duty to take steps to secure freedom of speech and academic freedom.
A requirement to have a code of practice in relation to that duty.
And a new duty to promote the importance of freedom of speech and academic freedom.
The Bill would place duties to secure free speech, and to have a code of practice, on students' unions too. It would bring student unions into the OfS's remit for the first time. We would be required to monitor compliance of student unions with the new duties and would have the power to impose a monetary penalty if a student union failed to comply.
And the Bill would strengthen the OfS's role in relation to universities. We would be required to impose new mandatory conditions of registration on all higher education providers – setting requirements in relation to an institution's governing documents, its management and governance arrangements, and to require it to comply in practice with the new free speech duties.
We would also be required to operate a complaints scheme, to consider and decide on complaints made by staff, students or visitors to an institution. That's a different type of function for the OfS – we don't currently adjudicate on complaints from individuals.
The Bill would create the new post of Director of Freedom of Speech and Academic Freedom, which would be an appointment made by the Secretary of State to the OfS board. This is one of the aspects of the Bill that has attracted headlines and debate. As is the case for all of us at the OfS, the new director will work impartially, carefully applying our understanding of the law to the facts and evidence in an individual case.
The Higher Education (Freedom of Speech) Bill is bringing change for the sector, and also for the OfS. But the issues and complexities are already familiar. While it will take time for us to implement new legislation, we're suggesting that universities take time now to make sure they can deal with these new requirements with confidence.
It's really important we all get this right – especially when the issues are difficult – because free speech and academic freedom are so fundamental to the success of our system of higher education.