International student perceptions & why the UK needs to build more destination loyalty
Despite the hardships presented by COVID-19 this year, the UK has seen higher-than-expected enrolment numbers during its autumn intake. However, as search trends point to increasing levels of competition among key study destinations such as Canada and Australia for 2021 intakes, it's now more important than ever for the UK to consider student perspectives and motivations and take action to ensure healthy long-term market share. Our research this year at IDP shows that it is vital for the UK to build more holistic destination loyalty to remain competitive. We've also seen that Chinese students have been much more risk averse with regards to studying abroad in 2020 compared to Indian students. As a sector, we need to recognise the different contexts, perceptions and motivations of international students to ensure that marketing and recruitment efforts meet the needs of all students.
Chinese students most risk averse
In May this year, IDP released the first of two Crossroads surveys in which 6,954 student applicants from 72 nationalities shared views and motivations for choosing key study destinations such as the UK. One of the most significant trends to come out of Crossroads I was that Chinese students indicated they would be more risk averse compared to Indian students. Of all those surveyed, 16% indicated that they intended on putting their studies on hold. When asked their reasoning, Chinese students cited safety concerns whilst travelling (74%) and not feeling welcomed in the destination country (20%) as primary reasons. In contrast, Indian students were less risk averse and indicated more willingness to travel and quarantine. They also showed much less concern about not being welcomed in the destination country. 61% of Chinese students were also more inclined to commence their studies online compared to only 46% of Indian students.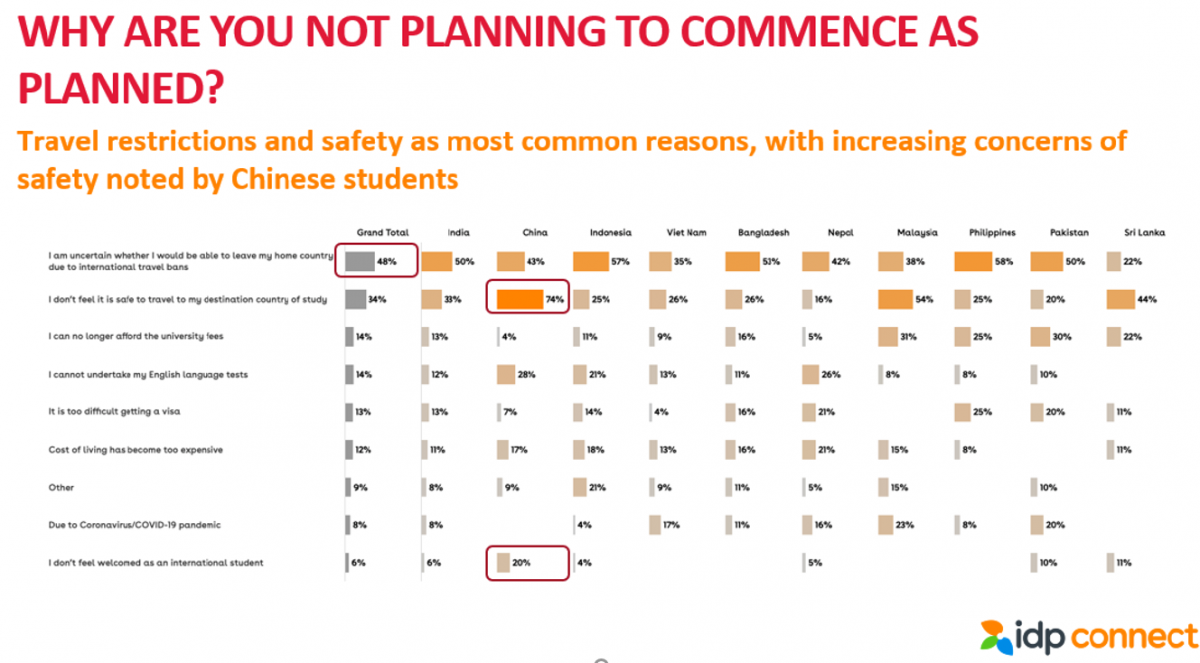 Source: Crossroads II survey
When asked which factors impacted their decision to commence studies in a chosen country, Chinese students were most concerned with the number of COVID-19 infections within the destination country. This was followed by the mode of delivery offered by the institution. In contrast, Indian students indicated a reverse trend showing that they're least concerned by the number of COVID-19 infections in a destination country. Their top considerations were the ability to undertake post-study work in the destination country, followed by the mode of delivery by the institution.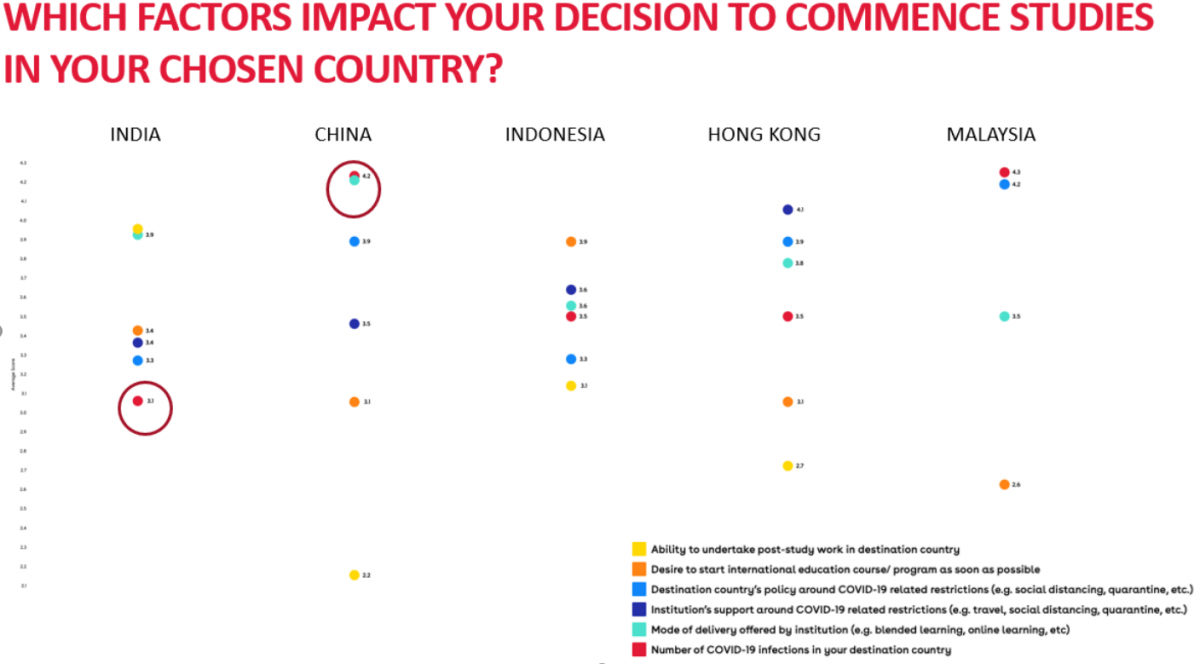 Source: Crossroads II survey
Survey findings echo student enrolment decisions
As shown in the graph below, final enrolment decisions echoed finding from the Crossroads research, which indicated that Indian students were likely to travel and quarantine, whilst Chinese students were risk averse and more comfortable studying online at home in the current climate.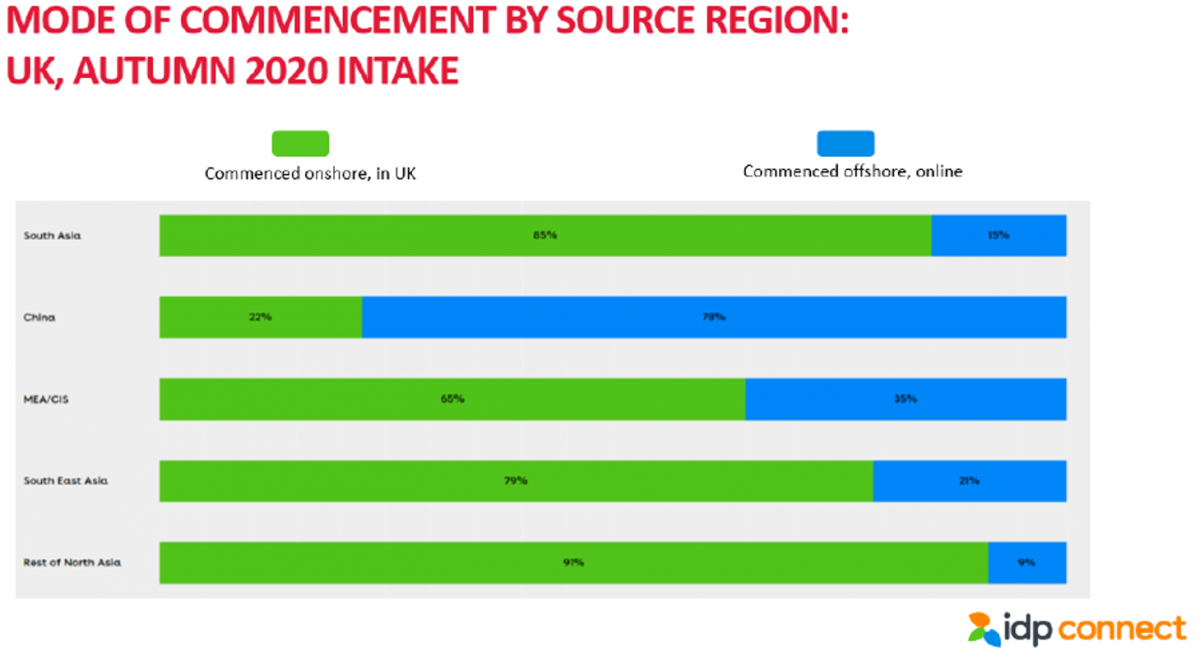 Source: IDP Education
Looking ahead to 2021
IDP Connect Demand Tracker monitors the search behaviour of over 100 million users across a suite of international student websites. Trends across all destination markets saw a notable lull coinciding with international COVID-related lockdowns between March and May. However, in June there was a dramatic rise, particularly for the UK, indicating increased interest for the September 2020 intake. These spikes are likely a response to policy announcements by the UK government of a new immigration graduate route...
As the year progresses, we see other destinations, such as Canada and Australia playing catch up, indicating that the 2021 intakes are bound to be much more competitive. While the UK has benefitted from decreased demand to the US, this could quickly change subject to post election policies.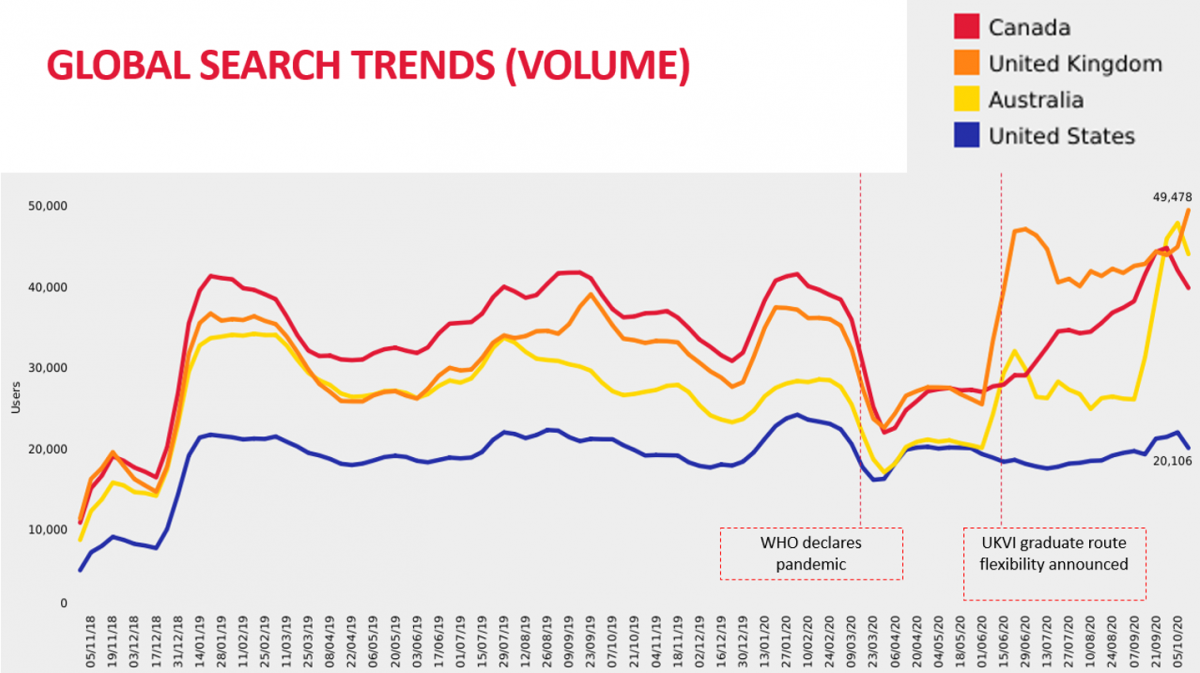 Source: IDP Connect Demand Tracker
Looking at demand over a slightly longer period in the below graph, we can see that rising searches for the UK in 2019 indicated a likely increase in applications for 2020, which has indeed been the case.  More recently, the UK has seen a drop in market share to a mere 27.98%.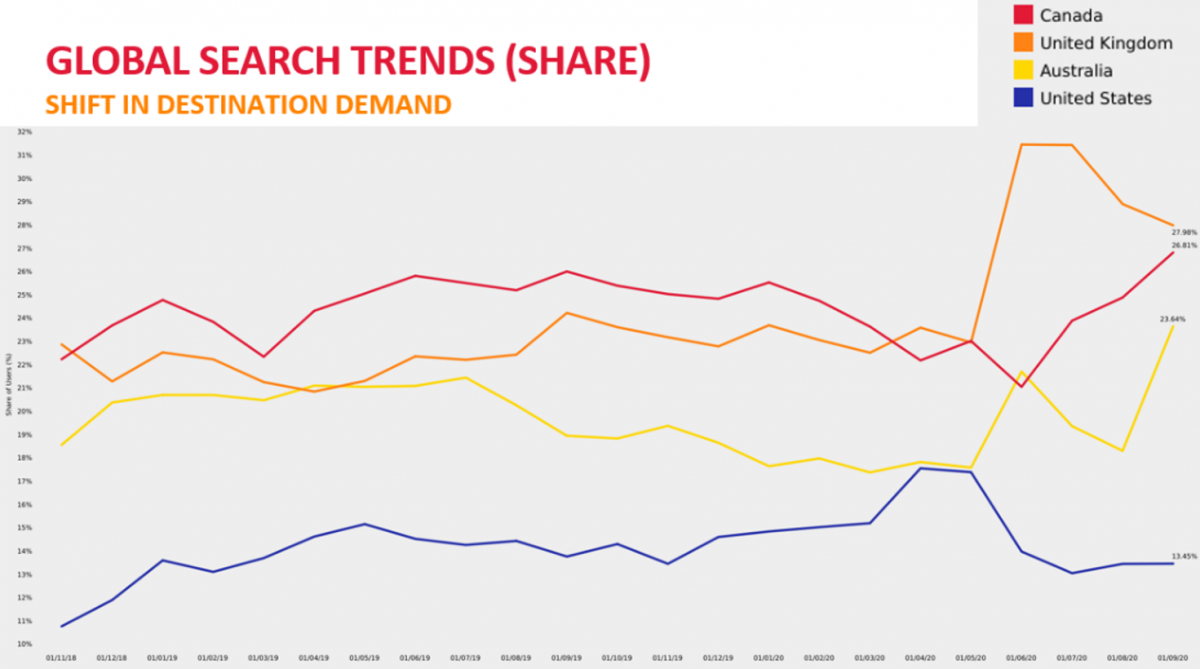 Source: IDP Connect Demand Tracker
Focusing only on Indian demand, we can see in the graph below that over the last two years, the UK has seen a rise in demand, though Australia has seen a marked spike in recent weeks, almost catching up with the UK. The Indian market has been particularly receptive to the UK government's policy announcements about the new immigration graduate route. We know from our Crossroads research that the Indian market particularly values post-study work opportunities and in this case responsive policy has clearly led to increased demand from India.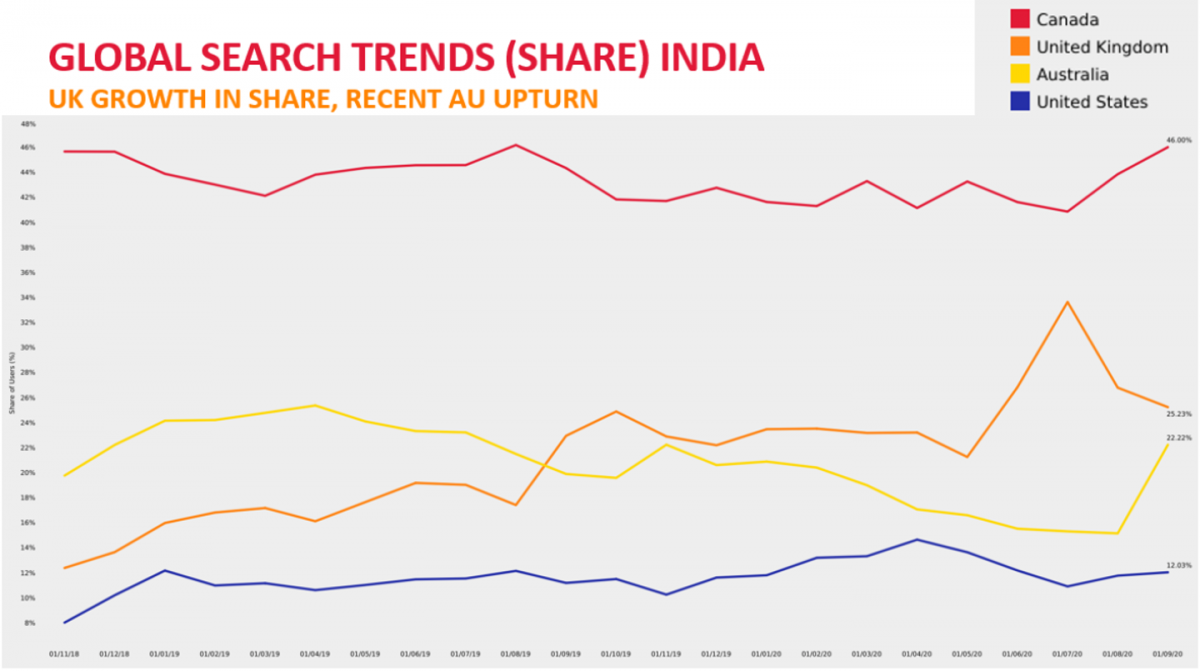 Source: IDP Connect Demand Tracker
Motivations and Perceptions
Findings from our Crossroads II survey, which were released in July this year, show that the UK has a clear market position: recognised for its quality of teaching. This indicates a strong reliance on the brand and reputation of popular individual institutions. It's a slightly different story for a destination such as Canada where students are drawn to the holistic destination for a variety of macro reasons such as safety, affordability and availability of part time work. In order to remain a stable and competitive student market, the UK needs to develop ongoing and high impact campaigns that further promote the country as a destination for international students. This will ensure that it is not solely relying on the popularity and brand building efforts of individual institutions.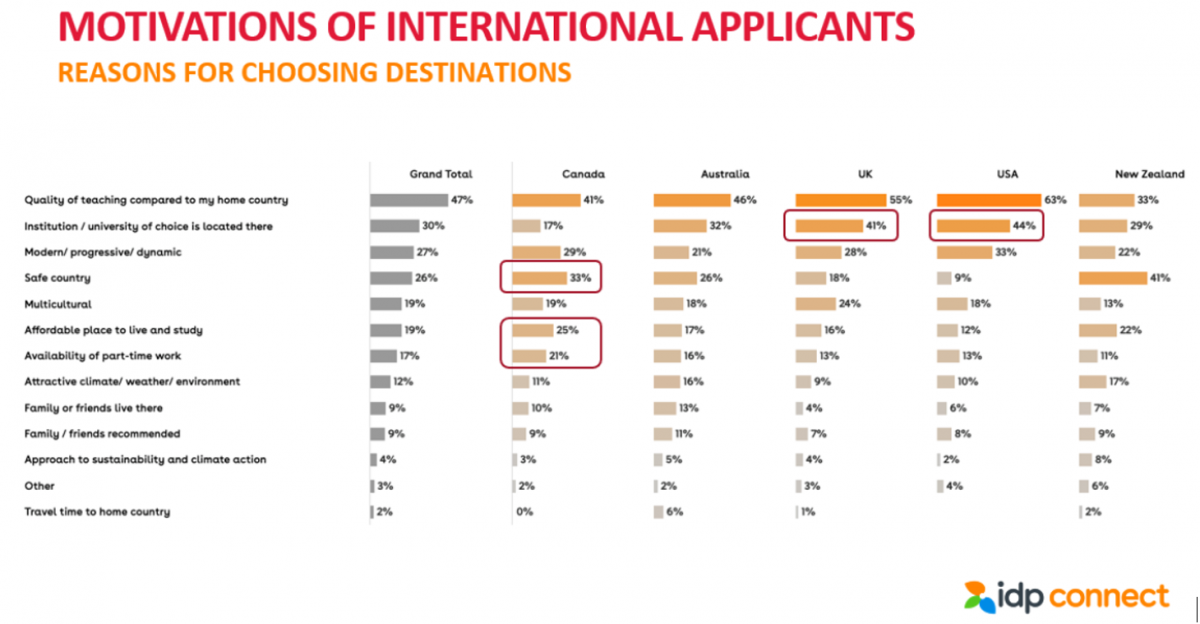 Source: Crossroads II survey
Broadly, the UK was perceived to have responded less well to COVID-19 compared to New Zealand, Australia and Canada. Canada was considered most positively with regards to the welfare of international students, while the UK and USA trailed in last positions. New Zealand's and Canada's responses to COVID-19 were ranked best with both destinations perceived as safer than the UK and USA.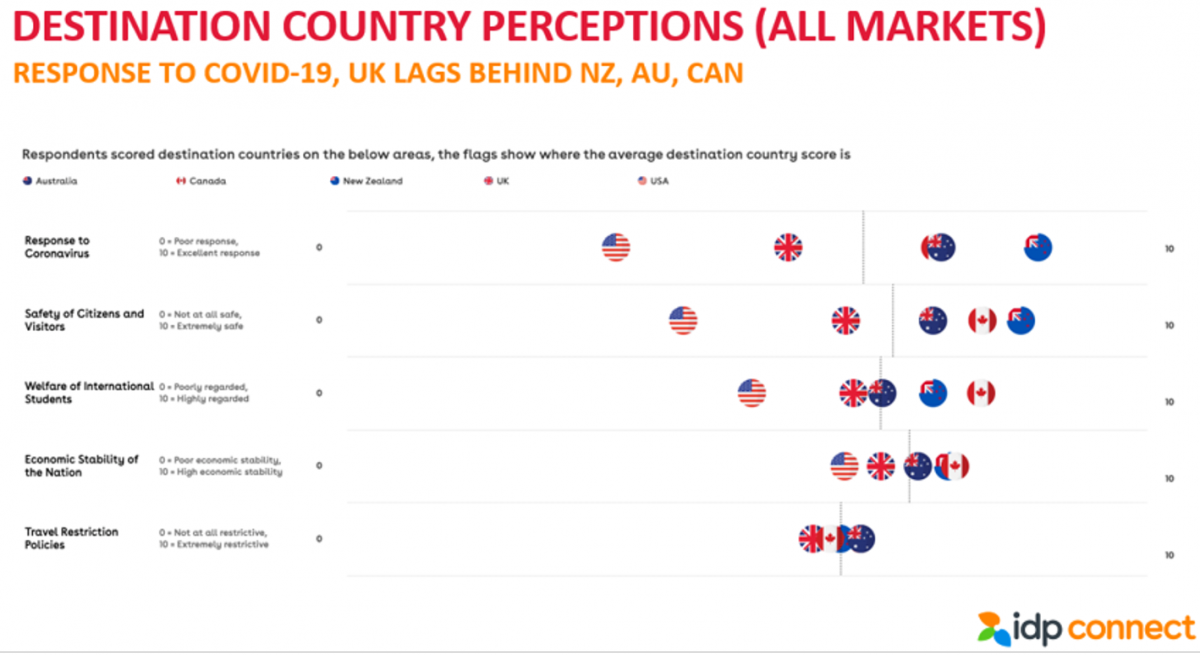 Source: Crossroads II survey
Interestingly, when the same question about perception was asked to Chinese students only, the UK was viewed more favourably than Australia with regards to welfare of international students. This could be a reaction to strained diplomatic relations between China and Australia.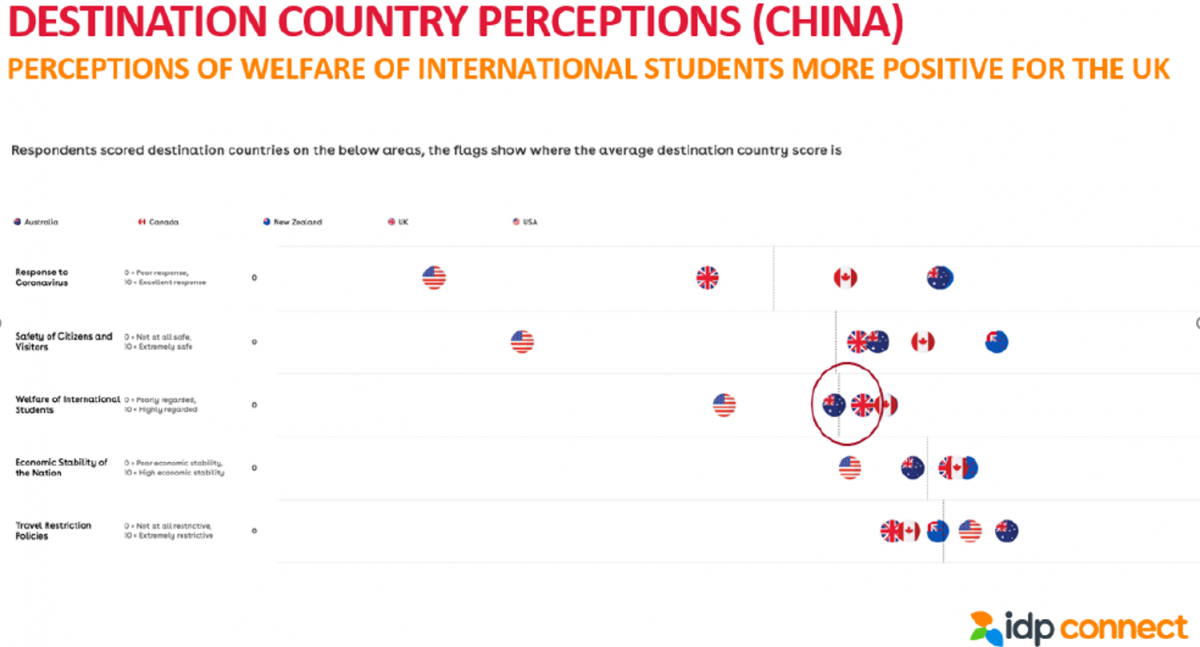 Source: Crossroads II survey
Reiterating the earlier point about the UK's need to increase destination loyalty, the below graph illustrates that students show higher levels of loyalty to Canada as a destination than the UK. More than half of respondents are unlikely to change destinations from Canada should face-to-face learning become available elsewhere, while 46% would switch from the UK. Proactive destination promotion, whether through Study UK or other channels, is vital in addressing these motivations and perceptions.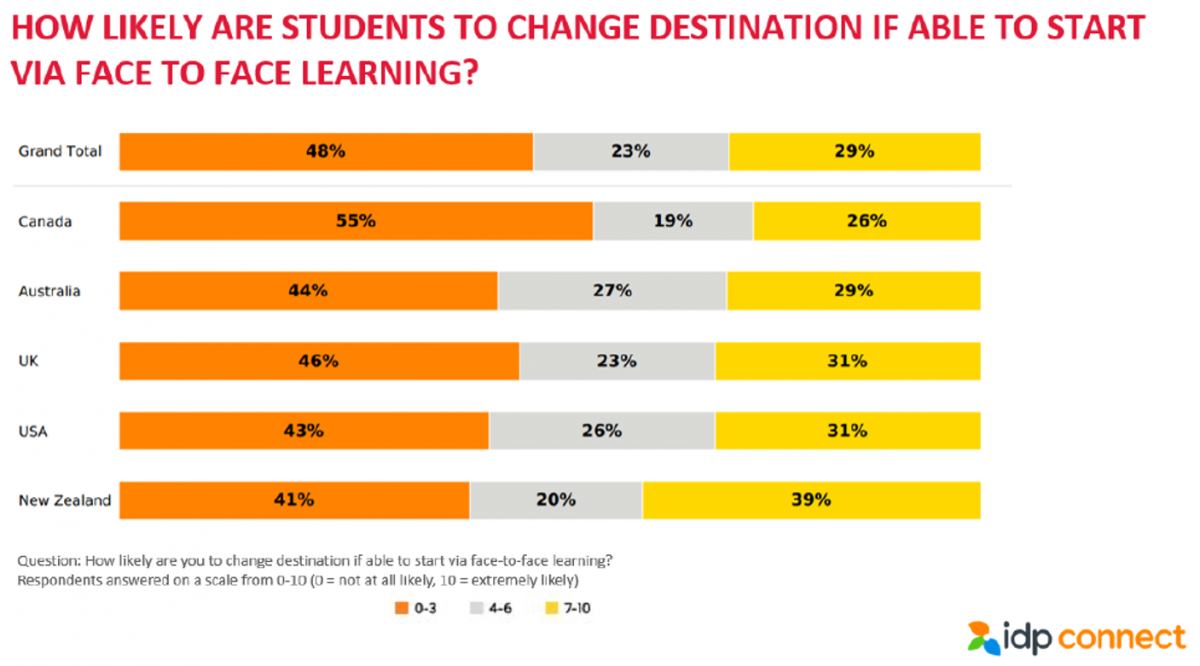 Source: Crossroads II survey
Key Takeaways
The UK has done well with regards to 2020 recruitment due to favourable policy announcements for international students and more lenient incoming travel regulations compared to markets such as the USA, Canada and Australia. However, if the UK wants to reach the International Education Strategy's targets of increasing education exports to £35 billion and the number of international higher education students to 600,000 by 2030, we recommend the following actions:  
Students from different markets should be approached in tailored ways that meet their specific needs. Our research shows that Chinese students are risk averse – as a sector we can respect and support their needs by facilitating online studies and communicating frequent COVID-related updates. For Indian students, the emphasis should be on post-study work opportunities.  
As the higher education landscape becomes increasingly competitive, the focus should be on promoting the UK to international students as a desirable, holistic destination. More destination loyalty is urgently needed in key target markets. This is to ensure that prospective international students are driven not only by prestigious institutions, but by the UK as a destination in itself.
The UK can do more to change international student perceptions. Marketing efforts to key markets should focus on aspects such as student safety (particularly related to COVID), international student welfare (testimonials by international students currently in the UK are powerful) and what the UK is doing to effectively respond to the pandemic.
The UK government's new immigration graduate route has already had positive effects on recruitment. Marketing efforts focused on this new route and what it means for international students should be ongoing in key markets.
Visit IDP Connect to find out more about our data, research and how we support students and institutions. Also follow us for updates from Crossroads III scheduled for mid-November release.